We are so excited to officially announce that Gerty is available! You will find a list of shops that will receive orders in the next few days below so you can be the first to try this amazing new yarn.
Jill Wolcott joins us this week to introduce all of you to our newest yarny best friend. So without further ado, here's Jill:
Squooshy. That is really the best way to describe Gerty, 100% American Targhee. Amongst spinners and fleece people, Targhee seems to be the fiber of the moment. I've looked at my reference materials, to learn more about Targhee sheep and fiber. In addition to softness, the fiber is noted for a 3 to 5 inch length and lands at 22 to 25 microns, with lots of crimp, this fiber takes color well.
Targhee is a relatively new breed, developed in 1926 in Idaho, it is a cross-breed of Rambouillet rams and Corriedale and Lincoln/Rambouillet ewes, then back-crossed. The breeding was undertaken to get a sheep that produced both fiber and meat, and was suitable for ranching in the West and high plains. As breed specific fiber becomes a greater focus among dyers and producers, we are re-discovering things that have been hiding in plain sight. Hello Targhee!
Noted for soft and fluffy fiber, this merino-like fiber feels silky. I have enjoyed every stitch I have taken with this yarn. I want to take more stitches, but I'm nearing the end of my skein. You know the feeling—you are racing to the end, but you don't want to get there! Gerty is a fingering/sock yarn and a skein has 390 yards (356m). My skein color was Birdie.
From my skein I have knitted
a long exploration swatch of four stitch patterns,
two yoga anklets (40 sts),
one full anklet (40 sts),
a swatch in Pillar & Web, and
a partial swatch in Ringlet stitch.
I have wet and steam blocked my swatches and have these observations. Overall, there was little gauge change in my swatches—just a tidying up of stitches and rows. I used Addi Lace cable needles, US size 3(3.25mm). I am generally a loose knitter, so you may need to go up a size or two to achieve the same gauge.
Additional Useful Information: 14 WPI, 3-ply.
After my long swatch I got pretty excited about this yarn so I started working on the yoga sock samples on which I'm working out a new short row heel. The second one has a bit of shaping up near the toe which is great for those with widening at the ball of the foot. I got thinking about working a sock with absolutely no toe finishing. I know you can just kitchener an opening closed, but I don't love doing that and I am sorely troubled by socks with seams so it was a nice little exploration that I worked on for several evenings. I can tell you that the yarn holds up to ripping and re-knitting quite well. The result is a very rounded toe that begins from Judy's Magic cast on, then works short rows for the toe, then the sock, the short row heel, the anklet and rib, and the heel tab. I added a little rib at the instep because I was kind of bored with stockinette at that point.
I wanted to try a more complex stitch pattern too, so I pulled out a pattern that I did in a vest for Knitter's magazine in 1998. Pillar and Web is a fun pattern to work, but it wasn't right for this springy yarn. It is fine, just not quite right.
The stitch pattern needs openness, and this yarn tends to resist that. So I started working another stitch that I love, but have never done anything with: Ringlet. Ringlet requires some transferring of stitches, so the springy-ness of Gerty is just right.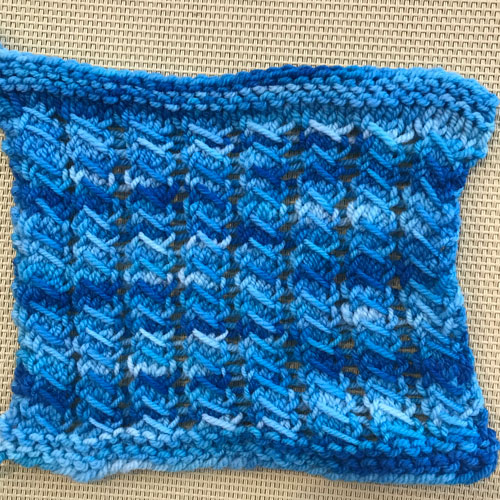 Gerty in Pillar and Web Stitch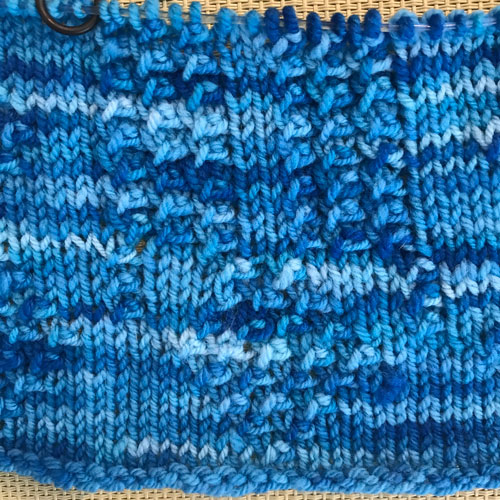 I would suggest that you try Gerty with stitch patterns that need definition, but for which compression isn't a problem. Because I cannot keep myself from thinking "what if", I began to envisioned Gerty in my Meath Pullover. I would love to substitute the cables with the Ringlet stitch, and maybe add columns of Ringlet to break up the stockinette of the body. Not quite able to stop dreaming, I checked and determined that the medium would take 4 skeins. I think I would have to do it in Peacock, it's such a beautiful shade of green.
Right now I'll try to savor these last few stitches while I dream of what comes next.
Gerty is being dyed and shipped throughout September. You'll be able to find Gerty exclusively in the shops listed below, all of whom are happy to ship!
Baskets of Yarn - Charlotte, NC - (704) 733-9053
Wasatch and Wool - Park City, UT - (435) 575-0999
Yarn Refuge - Reno, NV - (775) 384-1600
Knit One Purl Two - Rockford, IL - (815) 904-6030
Harps & Thistles Yarn Emporium - Cuyahoga Falls, OH - (234) 208-9482
Special orders only: Swatches - Fresno, CA - (559) 435-2813
You can place a special order for Gerty (or any of our yarns) at your favorite local shop. See a list of shops here and our map here.